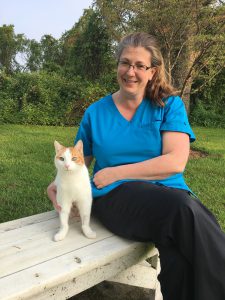 I am originally from Long Island and I obtained my undergraduate education at the State University of New York at Geneseo,  obtaining a Bachelor of Arts in History in 1996. I  then returned to school at the State University of Stony Brook to obtain my  prerequisites for veterinary school. In 2006 I graduated from the University of Minnesota with my DVM degree. I then completed a one-year rotating internship at Long Island Veterinary Specialists.
I moved to the Ithaca area in March of 2009 and worked at Colonial Veterinary Hospital until August of 2018,  at which time I then transitioned to Veterinary Care of Ithaca.
At home, I like  to spend my free time hiking and spending time with good friends and loved ones. I  volunteer for the Schuyler County Humane Society,  Hospicare and Loaves and Fishes. I  live in a farm house in Mecklenburg with my two cats Franklyn and Freddie.