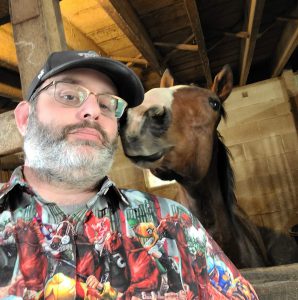 Bryan Langlois, DVM is a Shelter Veterinarian who has recently moved to the Bradford County area. Originally from Long Island, NY, he attended the Atlantic Veterinary College on Prince Edward Island, Canada and received his veterinary degree in 2005. He was the staff veterinarian at the Humane League of Lancaster county from 2005-October 2013 and the Medical Director of that facility from 2008-October of 2013. During his time there he created and grew many veterinary related programs from veterinary care for shelter animals to providing basic veterinary services to owned animals and a highly successful feral cat TNR program that altered over 15,000 cats in the county during his time there. He then served as the Medical Director of the Pet Pantry of Lancaster County, an organization he helped co-found in 2011, from 2012 to 2020. While there he focused on building up the feral cat TNR program in the area as well as serving as a vital veterinary resource for both other local rescues in the area and those pet owners who could not afford regular veterinary prices for more in-depth care due to financial hardship.
Shelter Medicine has been a passion of his for the last 20 years. He has worked in all aspects of sheltering from kennel worker to Veterinarian over that time. He thoroughly enjoys the unique challenges that Shelter Medicine provides and has been a continually active proponent of getting more veterinarians involved in animal welfare and shelter work through initiatives in the profession. Having a keen interest in animal cruelty prosecution and the vital role veterinarian's play, he advises veterinarians and other humane organizations in these areas. Working closely with the Bureau of Dog Law, he provides advice to their Dog Wardens about commercial dog breeding kennels throughout the commonwealth and the dogs they keep.
Dr. Langlois served as President of the Pennsylvania Veterinary Medical Association (PVMA) from 2018-2019 and is a current board member of their charitable arm, Animal Care PA. During his time on the board so far, he has worked to try and increase awareness of the organization and specifically the Last Chance Fund for animals through increased media exposure and his role as "Chance", the official mascot of the PVF. Keeping up with any current legislation that may affect the profession or animals, he is also a member of the PVMA Legislative Committee and Animal Cruelty sub-committee.
Dr. Langlois is passionate education and provides both veterinary students and recent graduate's opportunities to do a rotation with him in shelter medicine. He has lectured at numerous conferences about the topics of shelter medicine, animal cruelty, and shelter sanitation. Education of pet owners and the public in general is also a passion of his, which he helps fulfill through his monthly appearance on ABC 27's GoodDay PA program and his YouTube Series "Driving with Doc."
Over the last 5 years Dr. Langlois has taken a much more active role in another passion of his, horse racing, by being a vocal advocate for the racing fan and racehorse welfare at monthly State Horse Racing Committee Meetings. He is also on the Board of Directors for the Racing Fan Group called ThoroFan and does a lot of their media and educational videos.
In his spare time, he can be found enjoying the outdoors and studying history, with his latest interests being the period of the Revolutionary War through the Civil War and the role of veterinarians in all wars of the past. Most weekends he can be found at the track or at museums/historical sites. While currently without an animal companion in his home, he will no doubt be finding one soon to make the home complete.